Emilya,

virtuoso violinist, playing on an Edward

Lewis (London, 1687) acoustic violin and a Bridge electric violin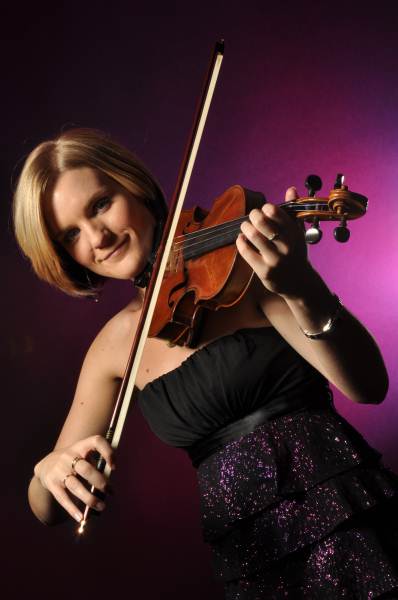 Introduction
Welcome to Emilya's page! Emilya is a violinist who has been performing professionally since the age of 9. Starting out in the family quartet, the Spring Quartet, Emilya also plays in the electric violin duo, Ponticello duo. She now also performs as a solo violinist.

Performances
Performing with or without backing tracks and to Classical, Pop, Jazz, Latino or Gypsy style on acoustic violin, electric violin or, the latest addition, saxophone, Emilya adds class and glamour to that special occasion.
Emilya plays at corporate events and weddings, travelling the UK with her own PA system and lights. (PLI covered and equipment PAT tested)

Approach
Emilya's passion for music is reflected in her performance; in all the styles she plays, she adds her own mystique to give each performance that special something.

Testimonials
'Pretty, blonde and armed with a pair of hi-tech looking fiddles, these ladies are hot stuff.' 'already a highly bookable act. The Pachelbel piece at the end of their set really was worth listening to.'
Reviewed by Mark Richie of The Stage, when performing as Ponticello Duo.